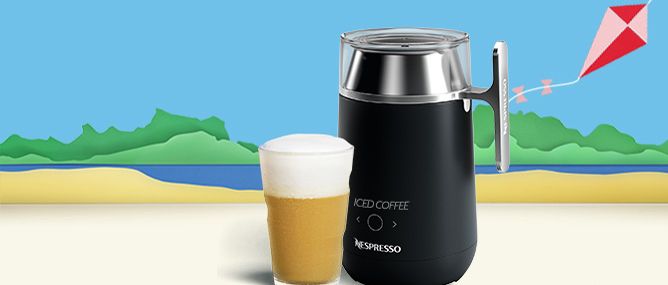 DISCOVER A WORLD OF MILK RECEPIES WITH THE SMART NEW NESPRESSO BARISTA.
Indulge in an array of taste experiences with a push of a button..
Creating your own coffee and milk recipe has never been easier thanks to the latest innovation from Nespresso. With the new Barista device, enjoy and indulge in dozens of new coffee and milk moments that are just waiting for you to discover them. Prepare anything from refreshing iced coffees or indulgent Chantilly milk to elaborate latte art or velvety hot chocolate at home. Just select your ingredients, sit back, and let Barista do the rest.
Here, modernity meets creativity in a design that is as sleek as it is practical. It will fit in any kitchen and is simple and convenient to use with its integrated touch screen and Bluetooth  connectivity. Compact in size and unique in design, the Barista device is available in an elegant matte black colour. The machine also comes equipped with:
Integrated touch screen with +20 recipes for hot, cold and chocolate based coffees, such as Flat White, Mocha Viennois, Iced Frappé and Latte Art.
Connect to the Nespresso app to discover and download more recipes via Bluetooth to your Barista device
Eco mode after 3 min to save energy
Induction system for uniform heating and optimized recipe preparation
Dishwasher safe jug
Prepare to rival your local coffee shop and impress anybody who loves coffee as much as you do with new Nespresso Barista.
Nespresso Barista will be available from 26th July at Nespresso boutiques and online at www.nespresso.com priced at £179.